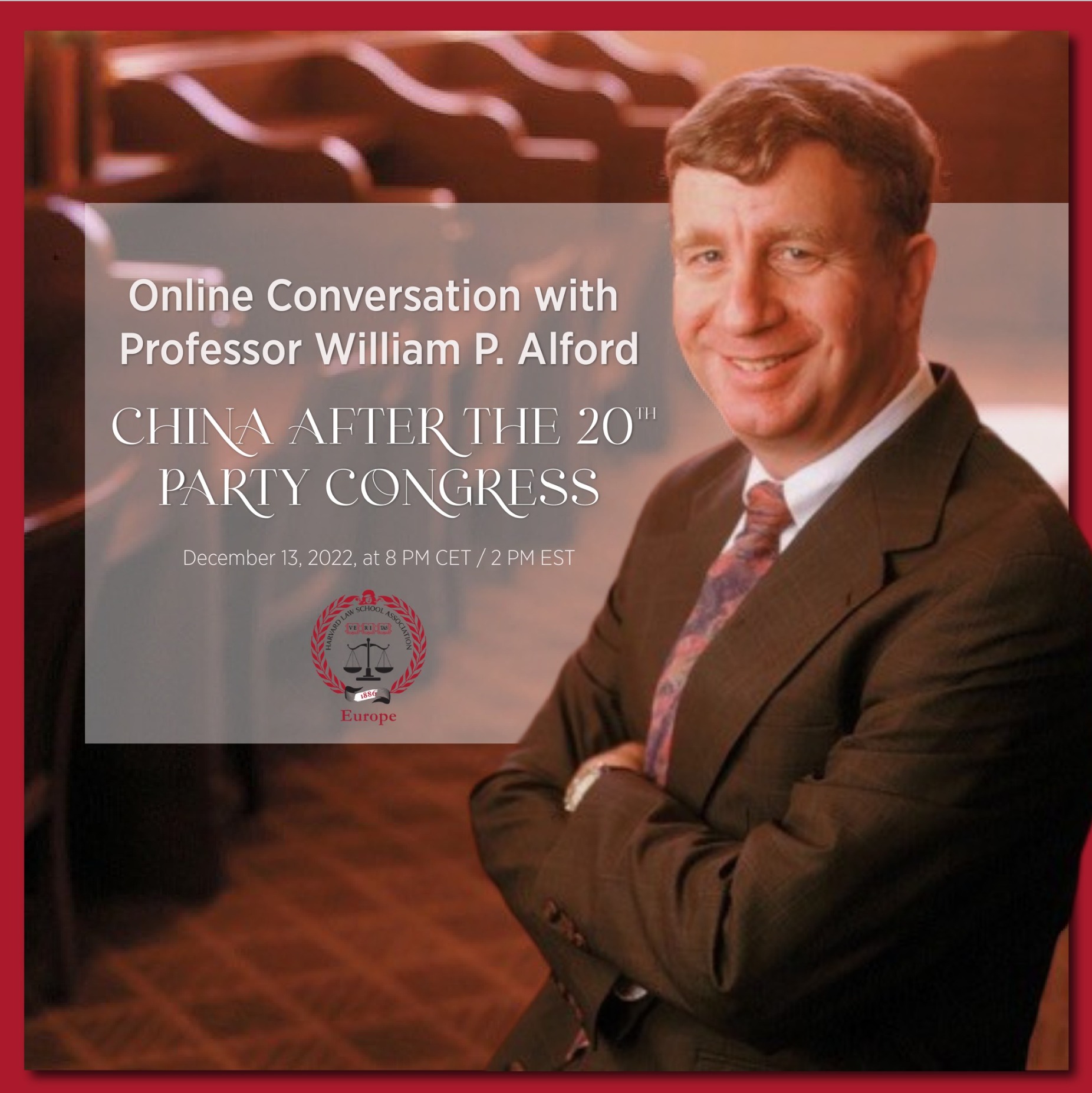 Online Conversation with Professor William P. Alford:
China After the 20th Party Congress
December 13, 2022
8pm CET / 2pm EST

Dear members of the Harvard Club of Luxembourg,
You are kindly invited to the online event titled "China after the 20th Party Congress", organized and hosted by the Harvard Law School Association of Europe. The event will take place this Tuesday (December 13), at 8pm Luxembourg time. Full information about the event is available here: Harvard Law School Association of Europe (hlsa.org).
Our guest, professor William P. Alford, is the Jerome A. and Joan L. Cohen Professor of Law and Director of the East Asian Legal Studies Program at Harvard Law School. His books include To Steal a Book is an Elegant Offense: Intellectual Property Law in Chinese Civilization (Stanford University Press 1995), Raising the Bar: The Emerging Legal Profession in East Asia (Harvard East Asian Legal Studies 2007), 残疾人法律保障机制研究 (A Study of Legal Mechanisms to Protect Persons with Disabilities) (Huaxia Press 2008, with Wang Liming and Ma Yu'er), Prospects for the Professions in China (Routledge 2011, with William Kirby and Kenneth Winston) and Taiwan and International Human Rights: A Story of Transformation (Springer 2018, with Jerome Cohen and Lo Chang-fa).
The 20th National Congress of the Chinese Communist Party (CCP) took place from 16 October 2022 to 22 October 2022. The Congress saw several amendments to the CCP Constitution, elected new members to the Politburo, and confirmed Xi Jinping to his unprecedented third term as the Party's General Secretary as well as chairman of the Central Military Commission, essentially confirming Xi as the most powerful leader in China since Mao Zedong. Newspapers around the world have been reporting events leading up to the Congress as well as speculating on what would happen during and after the Congress. In this conversation, Professor Alford will share his observations and thoughts on the 20th Party Congress.